Pause, and rewind early aging with Clear + Brilliant
At Face Fit, we are deeply passionate about skin health and helping our valued clients achieve their skin goals. We want our clients to look wholeheartedly in the mirror and love the skin they are in, so we ensure that our finger is always on the pulse for new, leading technology and treatments so that we can continue to deliver those results to our community.
It is our pleasure to introduce the latest advanced skin treatment to join the menu at Face Fit. We are proud to announce that Clear + Brilliant has landed and we cannot wait to share the results with our clients.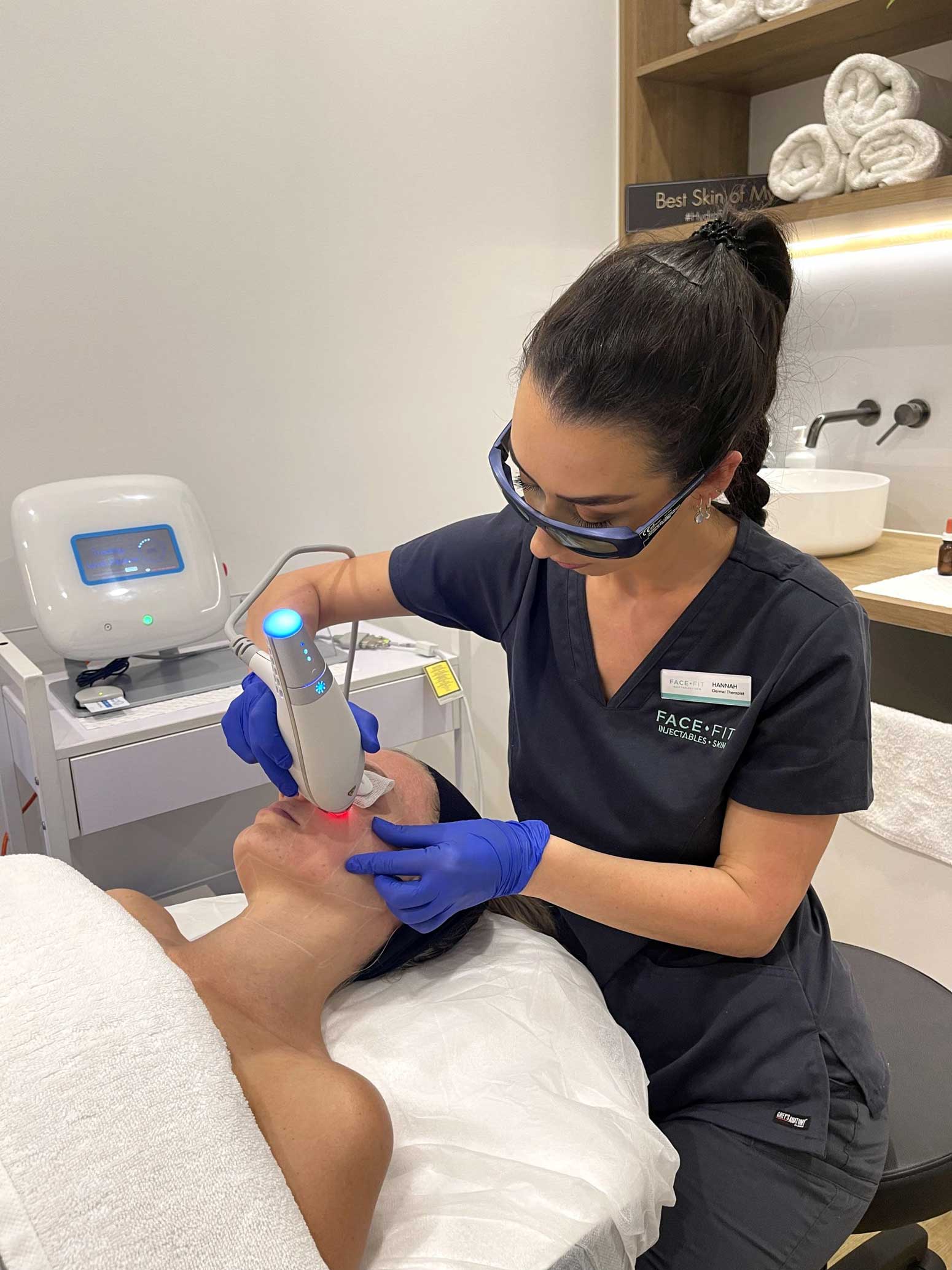 WHAT IS CLEAR + BRILLIANT?    
Clear + Brilliant is a gentle laser resurfacing treatment that will help prevent the signs of aging and address the overall effects time and environmental factors have on your skin. This treatment is perfect for clients that want to rejuvenate their skin by improving the appearance of pores, lightening pigmentation and discolouration and welcoming back a youthful, radiant complexion.
Non-invasive – The Clear + Brilliant treatment does not involve any needles
Satisfaction guarantee – With just a single treatment, you will see an immediate difference and thereafter, improved results with ongoing treatment
Minimal social downtime – Clear + Brilliant treatments are quick and leave you looking fresh with minimal redness for a few hours post treatment (this will subside in the days following).
HOW DOES CLEAR + BRILLIANT WORK?
Clear + Brilliant is a gentle treatment that uses patented fractional laser technology to improve the appearance of your skin.
During the treatment, the laser creates hundreds and thousands of microscopic columns in the upper layers of the skin. While stimulating the production of new healthy skin cells and collagen, repairing and resurfacing the skin with healthy, younger-looking tissue.
WHAT RESULTS WILL I ACHIEVE WITH CLEAR AND BRILLIANT?
The Clear + Brilliant treatment is perfect for addressing a number of concerns, including :
Early signs of aging
Enlarged pores
Fine lines
Skin tone/ Pigmentation
Sun-damage
The treatments results are both immediate and progressive and can take up to a week to see its sheer BRILLIANCE!. At this time, you will notice visibly smoother, clearer, more plump and youthful skin. Results can last for several months dependant on your attention to aftercare, your age and your current skin condition.
WHO IS CLEAR + BRILLANT SUITABLE FOR?
Clear + Brilliant is a fit for most people.
Whether your skin goals are to extend your youthful complexion or address signs of aging or if you want to target stubborn pigmentation or dark spots, Clear + Brilliant will become your new best friend.
Environmental factors, sun exposure, and lifestyle are all major factors that constantly contribute to a decline in anyone's skin so with this in mind, it is a wonderful treatment that would suit most skin types. We do recommend speaking with our Dermal Therapist to ensure that Clear + Brilliant is the ideal treatment to help you reach your skin goals.
HOW TO PREPARE FOR CLEAR + BRILLIANT?
Avoid fake tanning and excessive UV exposure
Avoid dermal filler and anti-wrinkle two weeks prior
Avoid the use of topical retinoids/retinol
Redness and sensitivity can be prevalent after treatment so in your preparations, be sure to select a time where you don't have commitments that may require you to be out in the sunshine.
WHAT DOES POST-TREATMENT CARE LOOK LIKE?
As your skin will be sensitive post-treatment, and we are heading into Summer. We would recommend for clients to:
Avoid scratching or exfoliating skin for the first week
Avoid skincare with active ingredients for the first week or till redness and irritation are gone
Avoid direct sunlight for three days
Wear hats for protection and high SPF
We recommend not apply harsh chemicals for 24+ hours
Help your skin to look its youthful best! If you are in need of a gentle way to stimulate collagen, attain a healthy glow, smoother texture and even your skin tone, Clear + Brilliant is the facial treatment you need to book in for!
To celebrate the launch of Clear + Brilliant at Face Fit Gold Coast, you will receive a $50 Gift Voucher to spend on skincare! Hurry, this offer won't last long! Speak with our team to schedule a consultation.